Growing Investments to Drive Anode Material for Automotive Lithium-Ion Battery Market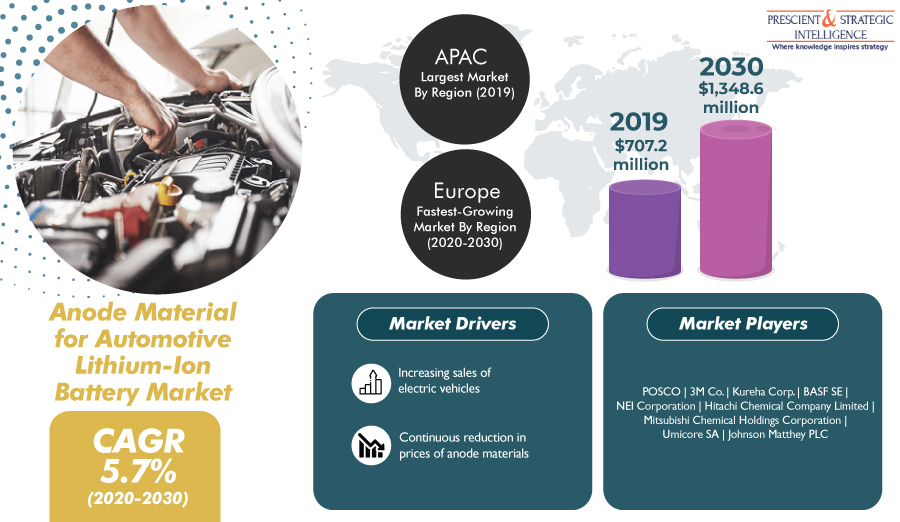 The global anode material for automotive lithium-ion battery market is predicted to generate a revenue of $1,348.6 million by 2030
Key factors such as the soaring sales of electric vehicles and reducing prices of electrode materials will drive the anode material for automotive Li-ion battery market at a CAGR of 5.7% during 2020–2030. The market generated $707.2 million in 2019, and it is expected to reach $1,348.6 million by 2030. In recent years, academic institutions and original equipment manufacturers (OEMs) have started investing in research and development (R&D) for better anode materials than the ones currently in use.
These entities have realized that the improvement in Li-ion batteries centers on enhancing the abilities of their components. OEMs have, therefore, are partnering with and investing in the research programs of academic institutions that are working toward the development of such products. These investments facilitate the creation of batteries with a long life, high performance, high power density, low cost, and eco-friendly nature. One such way that R&D has unearthed is using different concentrations of silicon and graphite, to do away with the technical problems associated with anodes predominantly containing Li or silicon.
Download report sample at: https://www.psmarketresearch.com/market-analysis/anode-material-automotive-lithium-ion-battery-market/report-sample
Another key factor driving the anode material for automotive lithium-ion battery market growth is the constant reduction in the prices of these materials. The anode accounts for nearly 10–18% manufacturing cost of a Li-ion battery, which is already expensive. The price of anode materials is a key factor governing the usage of batteries, as it is affected by downstream battery manufacturers and upstream raw material suppliers. Owing to this reason, OEMs are working on the development of low-cost anode materials. The cost curtailment of Li-ion battery anode material is also aimed at supplementing the energy density of these batteries.
In the coming years, these batteries will be largely installed in passenger cars and commercial vehicles. Li-ion batteries are being incorporated in electric commercial vehicles, such as buses and trucks, as they require a battery with a high capacity and energy density. Automakers now have the option of installing high-capacity Li-ion batteries that have artificial graphite, amorphous carbon, natural graphite, lithium–titanate oxide (LTO), and silicon compounds in their anode.
Globally, the Asia-Pacific region adopted the highest quantity of anode material for automotive Li-ion batteries in 2019, and it is expected to be the largest consumer in the coming years too. This can be owed to the widescale adoption of EVs in China, on account of the favorable government policies, infrastructural support, such as for charging station installation, subsidies and incentives, and investments in the EV industry. Moreover, the growing awareness regarding the lower total cost of ownership (TCO) of EVs in comparison to conventional vehicles and the environmental benefits of the former are fueling the demand for them in the region.
Browse full report at: https://www.psmarketresearch.com/market-analysis/anode-material-automotive-lithium-ion-battery-market
Market Size Breakdown by Segment
By Type
Artificial Graphite
Natural Graphite
Amorphous Carbon
Lithium–Titanate Oxide (LTO)
Silicon Compound
By Vehicle Type
Two-Wheeler
Passenger Car
Commercial Vehicle
By Vehicle Technology
Hybrid Electric Vehicle
Plug-In Hybrid Electric Vehicle
Battery Electric Vehicle
Geographic Analysis
North America
Europe

Germany
France
U.K
,Norway
Sweden
Netherlands

Asia-Pacific

China
Japan
South Korea
India

Latin America, Middle East, and Africa
Browse Other Reports
Cathode Material for Automotive Lithium-Ion Battery Market – https://www.psmarketresearch.com/market-analysis/cathode-material-automotive-lithium-ion-battery-market
Automotive Lithium-Ion Battery Market – https://www.psmarketresearch.com/market-analysis/automotive-lithium-ion-battery-market
Media Contact
Company Name: P&S Intelligence
Contact Person: Abhishek
Email: Send Email
Phone: +918887787886
Address:Noida Sector 2
City: Noida
State: UP
Country: India
Website: https://www.psmarketresearch.com/market-analysis/anode-material-automotive-lithium-ion-battery-market