Drug Resistant Epilepsy Market Insights, Drugs and Forecast 2030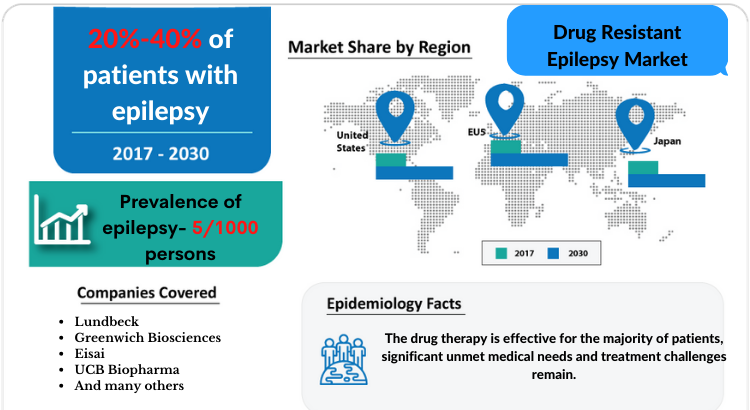 "Drug Resistant Epilepsy Market" report has been added to DelveInsight
DelveInsight's "Drug Resistant Epilepsy – Market Insights, Epidemiology, and Market Forecast-2030" report delivers an in-depth understanding of the Drug Resistant Epilepsy , historical and forecasted epidemiology as well as the Drug Resistant Epilepsy market trends in the United States, EU5 (Germany, Spain, Italy, France, and United Kingdom) and Japan.
Request free sample copy of Drug Resistant Epilepsy Market report- https://www.delveinsight.com/sample-request/drug-resistant-epilepsy-market
Drug Resistant Epilepsy Market: Overview
Drug-resistant epilepsy (DRE) is defined as a failure of adequate trials of two tolerated, appropriately chosen, and used antiepileptic drugs to achieve sustained seizure freedom. The epilepsies have many possible causes and there are several types of seizures. Anything that disturbs the normal pattern of neuron activity; from illness to brain damage to abnormal brain development can lead to seizures. The seizure medications must have been chosen appropriately for the person's seizure type, tolerated by the person, and tried alone or together with other seizure medications.
Drug Resistant Epilepsy: Cause
The causes that underlie epilepsy include brain injury or damage to the brain, structural abnormalities that arise during brain development, genetic factors, etc. Having a single seizure as the result of a high fever (called febrile seizure) or head injury does not necessarily mean that a person has drug-resistant epilepsy (DRE). Only when a person who had two or more seizures, he or she is considered to have DRE.
Generally there are three types of seizures i.e. generalized onset seizures, focal onset seizures and unknown onset seizures which are further subdivided into several types.
Drug Resistant Epilepsy: Symptoms
The signs and symptoms of drug-resistant epilepsy include temporary confusion, a staring spell, uncontrollable jerking movements of the arms and legs, loss of consciousness or awareness, psychic symptoms, muscles become limp or weak, etc.
Drug Resistant Epilepsy: Treatment
Patients with refractory epilepsy carry the greatest burden of treatment of epilepsy. Refractory epilepsy or drug-resistant epilepsy can be identified if seizures persist despite adequate doses of two or more appropriate first-line antiepileptic drugs (AEDs). Uncontrolled seizures cause injuries, disability, and increased mortality, so efficient treatment options should be considered as soon as seizures are proven to be medically resistant.
Drug Resistant Epilepsy Market: Report Scope
The report covers the descriptive overview of Drug Resistant Epilepsy, explaining its causes, signs and symptoms, pathophysiology, diagnosis and currently available therapies
Comprehensive insight has been provided into the Drug Resistant Epilepsy epidemiology and treatment in the 7MM
Additionally, an all-inclusive account of both the current and emerging therapies for Drug Resistant Epilepsy are provided, along with the assessment of new therapies, which will have an impact on the current treatment landscape
A detailed review of Drug Resistant Epilepsy market; historical and forecasted is included in the report, covering drug outreach in the 7MM
The report provides an edge while developing business strategies, by understanding trends shaping and driving the global Drug Resistant Epilepsy market
Request free sample copy of Drug Resistant Epilepsy Market report- https://www.delveinsight.com/sample-request/drug-resistant-epilepsy-market
Following is the table of content of Drug Resistant Epilepsy report
1. Key Insights
2. Executive Summary of Drug Resistant Epilepsy
3. Competitive Intelligence Analysis for Drug Resistant Epilepsy
4. Drug Resistant Epilepsy : Market Overview at a Glance
5. Drug Resistant Epilepsy : Disease Background and Overview
6. Patient Journey
7. Drug Resistant Epilepsy Epidemiology and Patient Population
8. Treatment Algorithm, Current Treatment, and Medical Practices
9. Unmet Needs
10. Key Endpoints of Drug Resistant Epilepsy Treatment
11. Marketed Products
12. Emerging Therapies
13. Drug Resistant Epilepsy : Seven Major Market Analysis
14. Attribute analysis
15. 7MM: Market Outlook
16. Access and Reimbursement Overview of Drug Resistant Epilepsy
17. KOL Views
18. Market Drivers
19. Market Barriers
20. Appendix
21. DelveInsight Capabilities
22. Disclaimer
23. About DelveInsight
Drug Resistant Epilepsy: Reasons to buy this report
The report will help in developing business strategies by understanding trends shaping and driving the Drug Resistant Epilepsy market
To understand the future market competition in the Drug Resistant Epilepsy market and Insightful review of the key market drivers and barriers
Organize sales and marketing efforts by identifying the best opportunities for Drug Resistant Epilepsy in the US, Europe (Germany, Spain, Italy, France, and the United Kingdom) and Japan
Identification of strong upcoming players in the market will help in devising strategies that will help in getting ahead of competitors
Organize sales and marketing efforts by identifying the best opportunities for Drug Resistant Epilepsy market
To understand the future market competition in the Drug Resistant Epilepsy market
Related Reports
Media Contact
Company Name: DelveInsight Business Research LLP
Contact Person: Yash Bhardwaj
Email: Send Email
Phone: +919650213330
Address:304 S. Jones Blvd #2432
City: Las Vegas
State: NV
Country: United States
Website: https://www.delveinsight.com/