Tattooaffordable Introduces A Wide Range Of Waterproof, Temporary Tattoo Stickers For Kids And Adults At Affordable Price
Tattooaffordable presents a wide range of temporary tattoos that have become a fashion statement among adults, children, and teenagers.
Today, tattoos are becoming more and more popular. Displaying one on just about any part of the body is considered pretty cool. Tattoos continue to be a source of fascination for many people, regardless of age and gender. Some people like how tattoos look but don't want permanent marks. The solution here is visiting tattooaffordable and buying the newly presented tattoo stickers. These types of tattoo stickers have become popular among those going to parties, celebrating Halloween, Christmas, and those going clubbing. What's more, these types of tattoos have evolved and are now used as business promotional items and fun pieces of collateral for trade shows and similar events. They are much less expensive than a permanent design, beautiful and come in many designs and styles. It won't take clients long to find the perfect style to complement their personality and sense of fashion. As it is a fun way to express their individuality.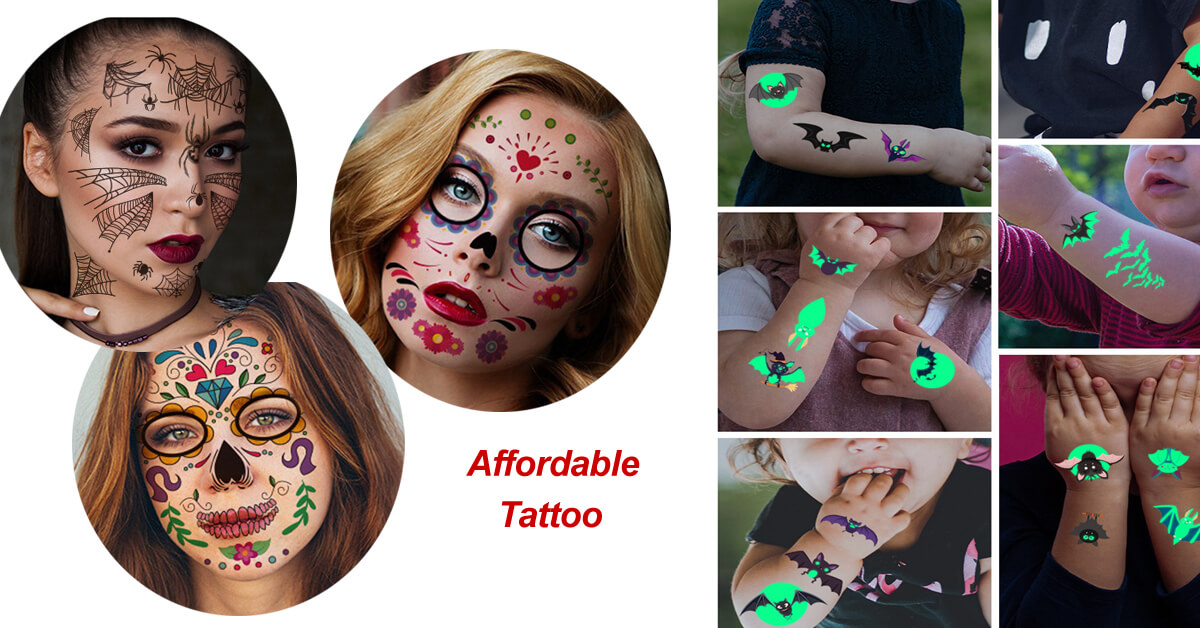 These days, more and more people have decided to get a tattoo. However, for those who like the idea of body art but don't want to leave a permanent mark on their skin, it might be worth looking at Tattooaffordable's affordable tattoos. These temporary tattoos are so realistic that users are sure to surprise their family and fool all of their friends into thinking that they have gone out and paid for a real tattoo. The company spokesperson said that these tattoos are flexible and waterproof for any festive event like a music festival, cruise vacation, beaches, overnight stays, etc. They come in a variety of designs and colors for customers to choose the best.
Kids tattoo stickers are very popular with children and sometimes even teenagers during parties. These tattoos are made from safe materials that are non-toxic in nature, usually lasts a long time, easy to remove, and FDA approved. Kids of all ages can wear them since they are waterproof and harmless to the skin. Many people are also making these tattoos for events like children's parties. It's a great alternative to the usual messiness that comes with body paint and glitter found at children's bashes. It's easy to raise the spirit of kids with these tattoos. They are simple, affordable, and attractive.
The beauty of adult temporary tattoos is that people can wear them for different events, and they will be effective regardless of the purpose. This is especially true if they are worn by users to increase team spirit or as a gift at fundraising events, so these tattoos are the perfect addition to events. They are available in numerous themes, are easy to use, waterproof, and can be applied simply by placing the tattoo on the skin and rubbing water on the back. This allows the ink to transfer to the skin.
About tattooaffordable
Tattooaffordable's history is rich in product innovation, customer focus, and strategic growth. With roots as a small business based in the US, it has become a world leader in providing temporary tattoos at affordable prices. Some of the tattoos they supply are used for birthday events, girls' nights, sleepovers, beaches, vacations, and music festivals.
Media Contact
Company Name: Tattooaffordable
Contact Person: Jason
Email: Send Email
Phone: 18898756822
State: New York
Country: United States
Website: https://www.tattooaffordable.com/