Talented artist The Velvet Bug releases modern rock album titled "Seven Suns"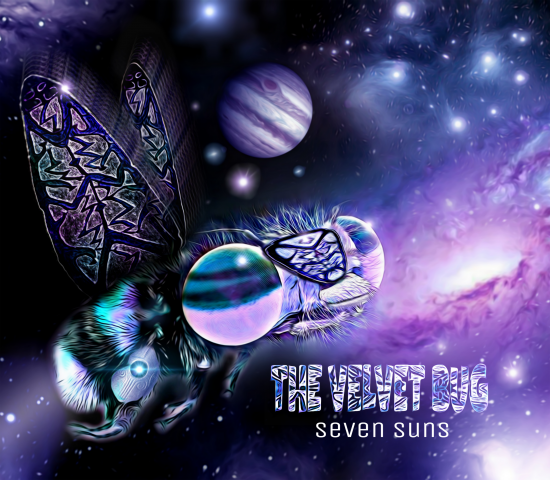 A believer in the therapeutic qualities of music, The Velvet Bug is a talented artist who makes unique music. Ever since The Velvet Bug was a little boy, he found himself transported to another world while listening to music, a world that was full of love and good intentions. Every song he heard brought him closer to empathy and understanding by opening up a part of him that he never knew existed within. All of this made him realize that music can heal a suffering soul… physically, mentally and emotionally, and therefore, he decided to contribute to making the world a little more interesting place with his power of music.
The Velvet Bug recently released his latest modern rock album "Seven Suns" on October 1, 2020. The album comprises of 11 exhilarating songs, including the title track "Seven Suns (She's a hunter)", the introductory track "Hologram from Mars", "Entropy" and 8 others. This album is based on fantasy, legends, and occurrences, and has created a buzz among listeners from across the globe ever since its release.
Telling more about "Seven Suns", The Velvet Bug says, "With my first song, Hologram from Mars, I set the tone on how I left earth (and my dear mother) and discovered our progenitors on Mars. With the song, Seven Suns (She's a Hunter), I discover a legendary angelic being with godly powers from Seven Suns, a planet surrounded by seven glorious stars in the seventh dimension and whose sole purpose in life is the protection of the young and innocent. Funny thing is, the angelic beings love to dance to Rock."
This album has a song for every mood; if you want to sit back and relax, just turn your lights off and plug in your headphones, and you are good to go; if you want to have a house party with your friends, blast your speakers with this album and, you have a party right there! This album can be one of your go-to albums for every occasion.
The story behind the name of this artist is as intriguing as his music. He selected the moniker "The Velvet Bug" as a cosmic bug (or a cosmic bee) that travels to diverse places in the universe in search of escape, and so does this talented artist. The escape here means emancipation in its truest form; the escape from the world of limitation and deception; the escape from the simulacrum that we all are living in. The Velvet Bug wants to fly without restrictions and burdens and to free himself from the weight of the world. Listeners who listen to his music can feel a sense of freedom and resonate with the artist on a personal level.
With his hard work and optimistic approach towards life, The Velvet Bug is rapidly paving his way through the music industry.
Listen to the album "Seven Suns" now on leading platforms through this LINK.
Media Contact
Company Name: The Velvet Bug
Contact Person: D'iacono
Email: Send Email
Country: Costa Rica
Website: thevelvetbug.com