Kill Bambi describes the Life in Quarantine through Her Electrifying Musical Bonanza "Quarantine"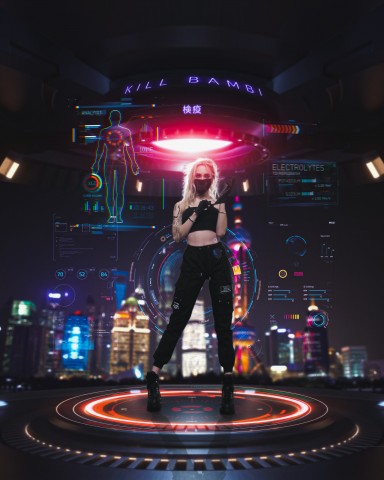 Most people in the world are quarantined due to the outbreak of the deadly coronavirus. Kill Bambi decries of this human segregation through her electrifying Electronic Dance Music, named "Quarantine". It is a musical blast, a dubstep track capturing the overall vibe of the current situation.
Kill Bambi's latest single "Quarantine" is a groovy, foot-tapping EDM track, that is subtly based on the current situation. It begins with rhythmic, progressive beats before propelling into a heart-stopping beat drop that ends with Cardi B's popular "Corona Virus" rant. The song has many surprising elements throughout, with a concoction of different sounds, and interesting play of instruments. The overall production quality of the song is impressive and there is never a dull moment, from the beginning till the last beat. This single is sure to make waves in the EDM and Dubstep music scene.
Kill Bambi has been producing her songs for a couple of years now and recently started releasing her albums which are available on all streaming platforms. She also did an amazing EDM remix version of Billie Eilish's popular song "Bad Guy" and Whethan's classic track "Be Like you".
"I've been in love with music since my childhood and as soon as I came across EDM and Dubstep, I knew what I wanted to do with my life. I want you to know that if you put your mind into anything, you can accomplish it if you're patient and really want it. My latest single 'Quarantine' is a musical expression of the current situation. We are living in a critical time and I thought of conveying the whole vibe through music, and thus the idea of this single was born", states artist Kill Bambi talking about her latest single.
Her inspiration to startle the world with her rocking image came from DJs especially deadmau5 and Skrillex. She has grown up listening to these numbers. As a child, her dream was to be like them but with a bit of her own style and originality.
She deciphers herself as a killing songstress that can set a stage on fire with her powerful music and versatile appeal.
To know more about Kill Bambi and her music visit her website Real Kill Bambi.
Media Contact
Company Name: Kill Bambi
Contact Person: Amber Bernstein
Email: Send Email
Country: United States
Website: Realkillbambi.com